Get Your Car Looking and Working Like New
At Austin-Spencer Collision, we have the tools and know-how to get your vehicle looking and running like new again after a collision or when it needs routine maintenance. Whether your car needs a paint job, a new battery, wiper blades, dents removed, or a new windshield; we will get the job done in a fair amount of time so you can get back to the important things in your life.
Mechanical
Our mechanical technicians take the utmost pride in making sure your car runs like new, without breaking your bank.
We provide the following mechanical services and more: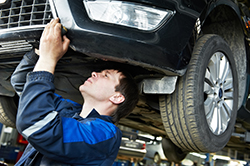 NYS Inspection
A/C Recharge
Exhaust System
Brake Service
Oil Change
Tire Change & Rotation
Vehicle Schedule Maintenance
Wheel Alignment
Suspension Service
Rebuilding & Servicing Transmissions
Visit our affiliates site TheTransmissionClinic.com
Collision & Auto Body Repairs
Our team understands that after an accident, you just want to get your car fixed and fixed quickly.
Don't delay, call us and allow our professional auto body repair specialists to get your car back to looking its very best in no time at all. We can even replace broken auto glass!
Our years of auto body repair experience allows us to work efficiently with ordering parts, matching paint, and doing all the little things that can make your car looking new again. No body job is too hard.
We provide the following exterior repairs and more: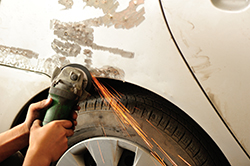 Auto & Truck Restoration
Collision Repair
Custom Body Modification
Frame Straightening
Windshield Replacement
Plastic & Bumper Repairs
Undercoating/Rust Proofing
Call us today for more information about our auto body services!
Paint Job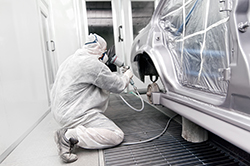 Our shop has over 25 years of auto paint experience, and we know that there is no shortcut, a quality job always takes an extra step to yield you worthwhile results. With our paint services, you can expect your car to be cared for as if it were our own.
We provide a variety of paint related services, such as overall & spot painting, as well as rust treatment. We also specialize paint-less dent repairs which can fix minor to medium sized dings and dents at a much lower cost.
Boat Services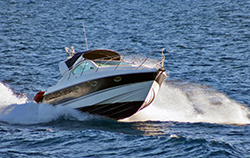 Why stop with automobiles? We do boats too! Looking to get your craft back on the water? Consider stopping in for some of the following:
Gel Coating
Interiors such as Vinyl, Rug & Canvas
Detailing both Exterior & Interior
Upholstery
We offer Upholstery Services
Warranty & Benefits
We have the Good Housekeeping Seal of Approval on all our workmanship, enabling us to offer a lifetime warranty and national paint warranty, handled through Certified First.
Something that truly sets us apart from other auto body and maintenance shops is that we have been certified through Underwriters Laboratories. We also have an independent survey company which helps us measure customer satisfaction, which has shown excellent results.
We even provide complete detailing for automobiles, including polish, wax, and shampoo.
Here are just a few of our value-added services: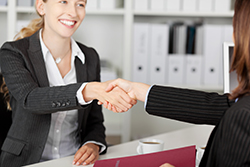 12,000 square feet of state of the art facility
Enterprise Rent-A-Car
National Lifetime Paint Warranty through Certified First
Clean, handicap accessible restrooms and customer lounges
Paint-less dent repair in-house
NYS Corporate licensed appraisal firm
College-educated and factory trained friendly staff
High speed, fully automated, digitized office system
Free Shuttle Service
Direct Insurance Billing
Free Estimates
Complete Upholstery Services in-house through Snyders Upholstery
Auto Sales
Call us today to see what cars we have available.
Free Auto Loaners
We offer Free Auto Loaners.